I've been thinking about it for a while but never posted about it on my blog. I've been a Netgalley member for a pretty long time and I absolutely love it. 🙂 However, I have way too many e-galleys on my Kindle, waiting to be reviewed – which gave me an idea. Why not declare December to be a Netgalley month and read as many e-galleys as I can? I know April @ Red House Books is the one who usually hosts Netgalley months but since I won't be able to participate the next NG readathon in January (I think that's the next NG event, right?), I decided to give it a try now and let's see how it works. 🙂
And, since there's no fun in doing it all one, I'm inviting you guys to join me! C'mon, it's gonna be great! I don't know how many of you will join in the fun (or if anyone will join me at all) but here's how it's gonna work:
❄ Netgalley Month runs until December 31
❄ Our aim is to read as many Netgalley books as we can in order to get ourselves through our TBR piles. You can read as many as you like: if you only read one book, that's perfectly fine. If you can't participate throughout the whole month, once again, that's fine. It's all up to you!
❄ Make your own blog post about the event and sign up using the linky below, so that we know who participates. 🙂
❄ If you have Twitter, feel free to use the hashtag #NetGalleymonth when you update your status.
❄ I'll make a linky at the end of the month where you can list all your reviews you managed to post in December so that everyone can read them 🙂
Feel free to grab the event's button and spread the love: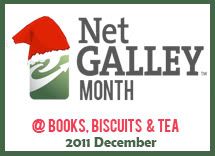 The Netgalley titles I'm aiming to read this month are:
Sounds good? :o) Please find the sign-up linky below and feel free to join me and/or spread the word!