In My Mailbox is a weekly meme hosted by The Story Siren. It's our opportunity to get a sneak peek into what books everyone is received for review, borrowed from libraries, bought in bookshops and downloaded onto eReaders.
I had such a slow week, in every respect, I cannot even tell you. Since my exams start next week, I tried to minimize my ARC requests, so it came as no surprise that I didn't get any physical books this week. 🙁 I'm gutted but hey ho, I need to get my exams done first. Anyway, I still have a few things to show you so keep reading!
Ebook for review
Growing Pains: Kendra's Diaries by K.P.Smith
"Growing Pains; Kendras Dairies is the first book in the series chronicling the journey of Kendra Foster from adolescence to adulthood. I aspire to encourage, entertain, and inspire young adults. Life has its ups and downs, its bumps and its bruises. But with perseverance, determination, and faith you can be all you were born to be. Never Give Up!"
Won
First of all, I'd like to say a massive thank you to Emlyn Chand, author of Farsighted and everyone who voted for me during the Farsighted blog tour, you're the best! And here comes to good news *drumroll* I won both the traffic breaker pollaward and the most creative blog entry award. I still can't believe it! I'll definitely throw an international giveaway some time in the future to celebrate and thank you all – probably after the holidays because I'm not sure what's the last shipping date for the Book Depository. 🙂
And there's more to come! I won two ebooks from JoAnne @ the Fairytale Nerd!!!! Thank you so much to JoAnne and Alison!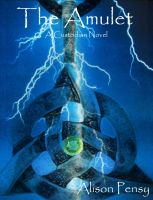 The Amulet (Custodian Novel #1) by Alison Pensy
Faedra doesn't know faeries exist, or that they control nature with a book. Nor does she know she's next in line to protect an ancient fae amulet that controls the weather. She doesn't realize the book has been stolen, or that the thief wants the amulet and is willing to kill for it. Until now Faedra is blissfully unaware of it all, but she's about to find out…
The Emerald Staff (Custodian Novel #2) by Alison Pensy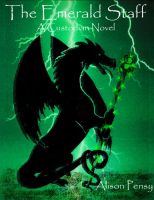 Faedra was enjoying the fact that everything was back to normal. Well, as normal as it could get when you had the ability to manipulate energy, were protector of an ancient Fae amulet, and lived with a fairy guardian 24/7. Her dad had even started dating. Yes, all was right again in Faedra's world, or so she thought…
Purchased
A shiny, new Kindle 4 with a matching cover! 🙂 I'm a happy bunny right now!!! It's incredible how fast UPS was this time – I ordered it on Tuesday and got it on Friday, even though it was shipped from the US. I love it already! <3
What did you get in your mailbox this week? Feel free to leave a link to your own IMM post so that I can visit you and check out your books. 🙂 Have a great day! x