Those of you who follow me on Twitter might know that I've a bit of an obsession with nail varnishes. I've been… well, let's just say collecting them for quite a long time and I'm constantly on the lookout for funny, cute and creative nail art designs. Since Halloween is only a week away, I decided to share a few Halloween themed designs with you, just in case you'd like to make this year's celebrations a little bit special.
Originally, I wanted to come up with my own designs but my week has been super crazy and I wouldn't have had time to experiment and do some tutorials as well. So what I'm going to do instead is post some design ideas I've seen on the Internet in the past few days – designs that I found interesting and ones that I will try myself. To see the tutorials just click on the images and you'll be redirected to the designers' blogs.
Spider and bat nails by Polished Love Affair
This one looks really cute and I love white-based nail designs. Although I'm pretty sure it's not as easy to do as it looks. I'll definitely give this one a try, though.
Spiderweb Funky French by Kayla Shevonne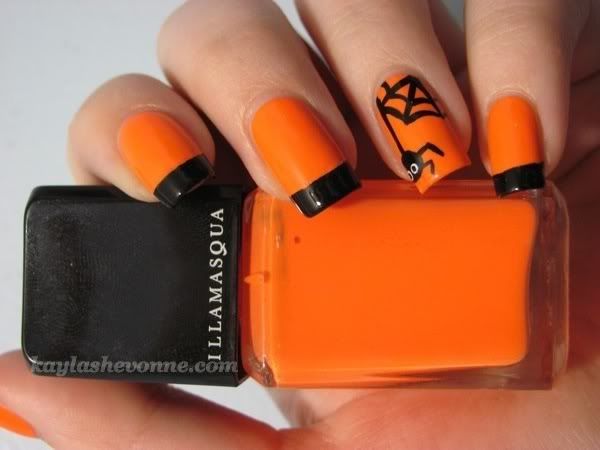 I love this one for its simplicity. It's not over the top, not too gory and you don't even need more than 3 colours.
Dripping Blood nails by Lacquered Me

I stumbled upon this dripping blood manicure on Lacquered Me's site but there's no tutorial on her blog. If you'd like to try this design, check out this video. It actually looks very simple and again, you only need two colours. Love it! 🙂
Frankenstein's Monster Nails by Swatch and Learn
This one is something I've seen a LOT on Pinterest and I really like it. I got a lime green nail varnish only last week so I'm going to try this one first.
Pirate nails by Swatch and Learn
Hahaha! These little guys made me laugh so much. Mary at Swatch and Learn says she purposely tried to do a design that didn't use too many colours so that it's a look that more people will be able to attempt, regardless if you have a huge lacquer collection or not. And the tutorial is pretty straightforward too which is always a plus. 🙂
Black spiderweb nails by Syl and Sam
Again, it's a super simple design – you only need one colour and one striper brush and that's it. The funny thing is, I've never been able to get this striper brush business right. Never. In my entire life. I've tried using it for a few different designs but the result was always disastrously messy. But I'm not giving up!
Do you have any favourite nail designs for Halloween? Or are you going to give any of these a try? 🙂