My First Online Boyfriend, But, More Importantly, The Only Guy I Dated Who I Had Zero Chemistry With
I recently wrote a YA contemporary romance about a girl named Brenna who really, really likes two amazing, great, fun, sweet, sexy guys. While I've known a few guys who fit all of those criteria, there were only a handful I ever really clicked with on a deeper level. Once I made the huge mistake of dating a guy I really had no interest in. I dated him for almost two months! How did it happen? Let me tell you!
When I was in my second year of college, my long-term boyfriend and I broke up. Our relationship had been on the downward spiral for a few years, but the end was messy. It culminated in my finding out that he'd set up an online dating profile and had gone on a date with a girl while we were still together. The only logical reaction was to let him see me with lots of gorgeous, smart, awesome guys who didn't cheat!
But, there was one tiny snag. I was a women's studies/art history double major. There were very, very few men in either major, and those who did choose those areas of study tended to have zero romantic interest in me (or any woman, for that matter). How was I going to get a guy? And quickly?
I decided that if my ex could get a date online, so could I!
I absolutely knew I'd meet my soulmate online!
This was back when scanners were really expensive, and scanning was pretty much the only way you could get a picture online. Cell phones still had antennas and cameras used film. It was the dark ages! You had to rely on your words and your wit to get a guy to fall for you. I mulled over my ad.
I'm a healthy, tall college sophomore from Sussex County, NJ, but don't let that scare you! I have all my teeth, I promise. I love travelling, eating way too much greasy food at all-night diners, and the first two Godfather movies. Maybe you can convince me to take a chance on the third?
The ad was kind of weird, but it got a ton of hits! With no pictures and only the spottiest information. One guy was particularly charmed by the promise of my full set of teeth. His username was MalibuGuy001. There should have been so many red flags based on that alone.
We started emailing back and forth. He wasn't in college, but he was gainfully employed. He lived close to where I went to school, and was sweet and funny. Whenever I sat down at the computer and saw the little '1' that let me know I had something in my inbox (yep, this was back when people contacted you by calling you, usually on your landline, so having one email a day was normal), my heart skipped a beat. We moved up to phone calls, and I liked his voice. He sounded goofy and nice.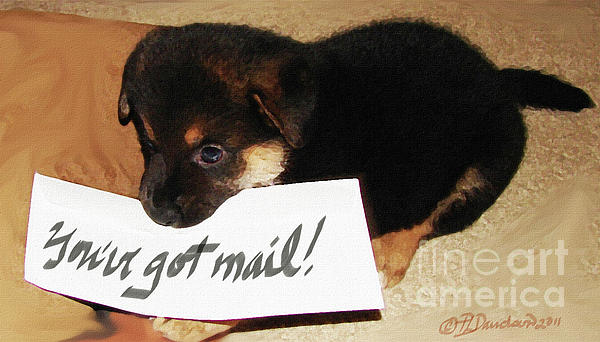 Aww! It was puppies-and-calligraphy-sweet to get those little love notes! (It helped to think of puppies and calligraphy, especially when my mom and sister kept warning me about body-bags and basement dungeons.)
After exchanging emails and talking on the phone for a few weeks, we made the decision to meet in person. I agreed to meet him at my dorm in the lobby where there would be plenty of eyewitnesses in case he was, in fact, a deranged killer.
He called to let me know he was out front and I ran down the stairs to meet him. He was tall and had a big goofy smile, shiny dark hair cut in that surfer-boy style, and a cheesy leather jacket. When he saw me, his smile got even bigger.
"Wow. You're even prettier than I thought you'd be," he said.
I was smitten! And triumphant! Ha, stupid ex-boyfriend! Look how quickly I got a sweet, happy, nice guy to like me! In your face!
My eagerness to make things work with this new guy (his name was Joe) made me overlook some general…awkwardness. Some lack of chemistry. Some…inability to click. I think part of the problem was that he he was generally a pretty nice guy. For example he took me to Red Lobster.
"Do you go out to fancy places like this a lot?" he asked, watching me eat roll after delicious butter roll.
"This place is pretty super fancy," I joked. "I always think of melted butter splashing everywhere when I think of Red Lobster. You know, like the commercials." I pantomimed fountains of butter spraying everywhere.
Hahaha! Oh, you don't find butter funny? Hmmm. I'm sorry, jokes about butter were kind of all I had in store for you tonight. Well, this is awkward.
Joe squinted at me. "That's just the commercial. Commercials aren't real," he explained. Helpfully, he assumed.
I chewed my roll extra long and made a mental note that jokes about butter fountains would not go over well with this guy. I would learn that pretty much any joke I made didn't go over well with this guy. He just didn't get my humor. At all.
One gesture that started out seeming very sweet was his penchant for picking me up this expensive gourmet candy every time he stopped by. It was some kind of chewy, gummy candy, and I thought it was super sweet that he picked it up for me. Even though I'm really not a chewy-gummy-candy kind of girl, I thanked him of course. But later I mentioned that I really love chocolate. He ate all of the candy he brought me. The next week he brought me the same kind of candy and ate it all again. Then he did it the next week. I was torn between feeling ungrateful and irritated. Irritated won out.
I know! They look delicious. I just don't like them much. I try…they tempt me with their bright, chewy temptation. But it never works!
I was feeling super irritated by the overall clunky, unromantic, awkward state of our relationship when Joe invited me to his house for dinner. His father was a cowering wreck, his sisters sullen and mulish, and his mother sneered openly at me.
"So you're a college girl?" She looked me up and down like she was debating taking me out back and bare-knuckle fighting me. "You a Catholic?"
"No." I raised my eyebrow at her.
"You aren't?" she pushed.
I thought about all that chewy-gummy candy her son kept buying 'for me' and eating himself and decided to let my manners drop a little. "No. It's so weird you're asking me. My parents have a rule. We don't talk about religion with company."
My family is the most frightening, intimidating, big-mouthed bunch of people in the world, but what I said was technically true. If you come to their house for dinner, they will never ask you about politics or religion. They might make you cry, but not because of religion or politics.
"Well, I don't know about that. Our pope is involved in everything that goes on in the world. He's a man of the youth. How can you have a conversation without talking about what he thinks?" She speared some over-cooked pasta with her fork.
I mopped some bland sauce up with my bread. "I'm not even sure who the pope is right now." It was a lie. Of course I knew who the pope was. It just wanted to see her face go purple.
She sputtered with pure fury. "So Joe tells us you travel. That's pretty fancy." From the way she said it, she might as well have substituted dumpster-dive and revolting. "So where did you go that was so interesting?" Contempt dripped off every word.
"I just went to Denmark for a month and we stopped over in Paris for a week." Who could turn her nose up at Denmark and Paris?
"I myself would go to Italy to see the pope, and to France to see all the Catholic churches there. You ever bother to get to Italy or France?"
It was too easy. It really was. But I was in no mood for mercy. "Paris. I went to Paris." She looked at me blankly. "Paris is the capital of France."
Just when I was sure this woman and I couldn't hate each other more, she started on poor Joe. As much as she disliked me, apparently I was way too good for her son. She spent ten minutes happily ripping him apart, calling him everything from "lazy," to "stupid," to "unmotivated." It was the only time she looked happy during dinner, other than when she talked about the pope.
I finally had enough. "Your son is a great person. he has a job, he works hard, he's kind." I had a hard time thinking of more to say in his defense. I hated how she talked about him, but it occurred to me that I wasn't so much angry because I felt passionate about him. I was angry that a mother would treat her son that way. I tried to imagine this woman as my potential future mother-in-law, and my absolute knowledge that that was impossible made me give up on any attempt at keeping the peace with her. "It's insane that you talk about him like that. You think the pope would approve of a mother like you?" I threw my napkin down and stormed out.
I did NOT want to feel this way about my mother-in-law, so I knew Joe and I probably didn't have a long-term future together.
Joe followed me out to his car. I was about to apologize for losing my temper when he said, "That was amazing! No one ever stands up to my mom!"
"You should stand up to her!" I cried. "Don't let her talk to you like that!"
He agreed, and we didn't discuss his awful mom anymore. And I felt bad knowing what kind of family he lived with. But it didn't stop it from annoying me when he kept gifting me with things he liked. Or when he changed the radio station while I was in the middle of singing a song. Or when he picked the place we went for a date every single time without even consulting me. Or when he constantly interrupted me, didn't pay attention to what I said, or tried (unsuccessfully) to finish all of my sentences. For someone who had such a hard time telling his mother to back off, he had no problem bulldozing over me.
The final straw came when I met up with my best-friend to Christmas shop. Joe called while I was at the mall.
"What are you doing?" he asked.
"I'm shopping with my friend," I said. "He needed to get something for his mom, and I'm pretty sure she doesn't want three pounds of cheese and sausage, so I'm here to help." I watched my buddy order two mouth-watering pretzels from the pretzel stand. I willed him to hurry up so I could get my salty fix!
"Wait? 'He'?" Joe was quietly accusing on the other end.
"Yeah. 'He.' The pronoun used for males. I've told you all about him. Why are you being so pissy?"
"I don't like you being out with some guy."
I held my phone away from my ear and stared at it like I'd never seen it before. What?! Who was this idiot? Who did he think he was? He didn't know a thing about me, and didn't seem to want to know learn more, but he was going to try to tell me who to hang out with?
Substitute the word 'pretzel' for 'coffee,' and you have the gist of how I was feeling at that second.
It may have had nothing to do with the fact that we met on the internet, but the whole thing felt weird, off, wrong. We didn't click, didn't mesh, didn't have any chemistry.
Right there, in the middle of the busy mall, my best friend holding out two enormous Annie's pretzels, one with the honey-mustard sauce he knew I loved because he's my best friend and bothers to get to know what I like and don't like, I broke up with Joe.
Technically, I told him to meet me at my dorm, but I knew I was breaking up with him.
"This just doesn't feel good," I said when we were face-to-face. "You hardly know me, I hardly know you, and it doesn't feel like either one of us really wants to work on this relationship. I don't like your family. You don't get my jokes. We don't have the same interest. There's no chemistry. And you try to boss me around. Unacceptable. Sorry. Get out."
"You're dumping me?" he asked, stunned. "We were fine a week ago, and now you're dumping me?"
"We hardly knew each other a week ago, Joe. I feel like I knew you better when we were just emailing."
I felt a little sad watching him walk away, until he said, "And I always hated The Godfather. Those movies are boring and stupid!"
I jumped up off the bed, livid. "You're boring and stupid, you phony! Get out of here!"
He huffed away, and I was left a little stunned that I had managed to 'date' a guy for almost two months and barely know a thing about him.
Who doesn't love this movie?! Who?! Joe doesn't. Seriously, I just feel bad for him.
In the end, it was a good thing, because dating Joe helped me see that it's no use to even try to just settle. It wouldn't work, because neither one of you would bother to care enough to make it work. And I realized how important chemistry is. So when I felt it for real, I knew I had it right, even when people around me told me I was wrong.
Please join me November 28th at missyreadsreviews.blogspot.com for the story of my first date with the man who would become my husband and the uber-chemistry I felt on that date!
Thank you so much to Vicky for letting me crash your blog with my sad zero-chemistry love story!


Thanks for joining us Liz, I thoroughly enjoyed your story! It's funny because know how exactly how it feels. I've had a similar experience with a guy, well…quite a few years ago and I've had the same feeling as you: as if something didn't click, there was no chemistry. I'll definitely stop by Missy's blog to read your story. 🙂