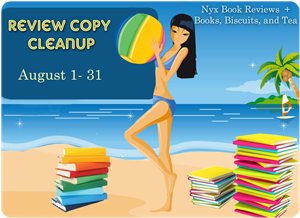 Just like the summer holidays and August itself, Review Copy Cleanup came to an end last weekend. I was struggling with a bit of a reading/ blogging slump and there were times when I wasn't feeling well, but all in all it was a success. My goal was to read and review 6 books which I managed to complete! I ended up reading different books than I though I'd pick up and I had to take a week off and read my own books to avoid getting into an even greater slump, but I completed my goal all the same.
All in all, I read 6 review books and 3 of my own books – 2615 pages total, out of which 1668 pages belong to review books. 🙂 The review books I managed to read this month are the following (just click on the book covers to read the synopsis and my review):
Torn by David Massey
Miss Peregrine's Home for Peculiar Children by Ransom Riggs
Call Down Thunder by Daniel Finn
Carnage by Maxime Chattam
To Turn Full Circle by Linda Mitchelmore
Debutantes by Cora Harrison
If I had to pick a favourite, I'd say it was Cora Harrison's Debutantes. It's a huge surprise because I've never been a fan of historical fiction but I loved this one. It's like the young-adult version of Downton Abbey – a show I absolutely adore – and I ended up loving it! As for the non-review books, I read these three last month:
In The Woods by Tana French
Watermelon by Marian Keyes
Mammy Walsh's A-Z of the Walsh Family by Marian Keyes
Marian's new book, The Mystery of Mercy Close is coming out on September 13, so I decided to re-read the previous four books in the Walsh family "series" before I order that one, hence Watermelon. In the meantime her ebook short (Mammy Walsh's book) was released which, again, meant that I decided to put my review books aside. 🙂 Tana French was a pleasant surprise and she soon became my newest favourite author – In The Woods was brilliant and I can't wait to read book #2!
Thank you so much to everyone who signed up for RCCleanup and took part in our event – I hope you did great and managed to reach your goals! Feel free to link me to your own wrap-up post (be it RCCleanup related or not) so that I can check out what everyone's been up to in August! And here's to a successful and stress-free September 🙂 See you soon!